Imagine yourself sitting in a quiet town in the English countryside having a cup of tea and something sweet after a long day of walking.
Your tea will be strong, with a dot of milk, served in a lovely cup. Your something sweet is a British Bakewell tart. This classic British dessert is rich, fruity, and an absolute family favourite.
You'll find small versions topped with white icing and a cherry, but we prefer the classic family-sized Bakewell tart which omits these. There are enough layers as it is – starting with a buttery pastry and a thick layer of raspberry jam and topped with a soft almond topping.
This tart is perfect with a cup of tea, or with warm custard for a full desert experience.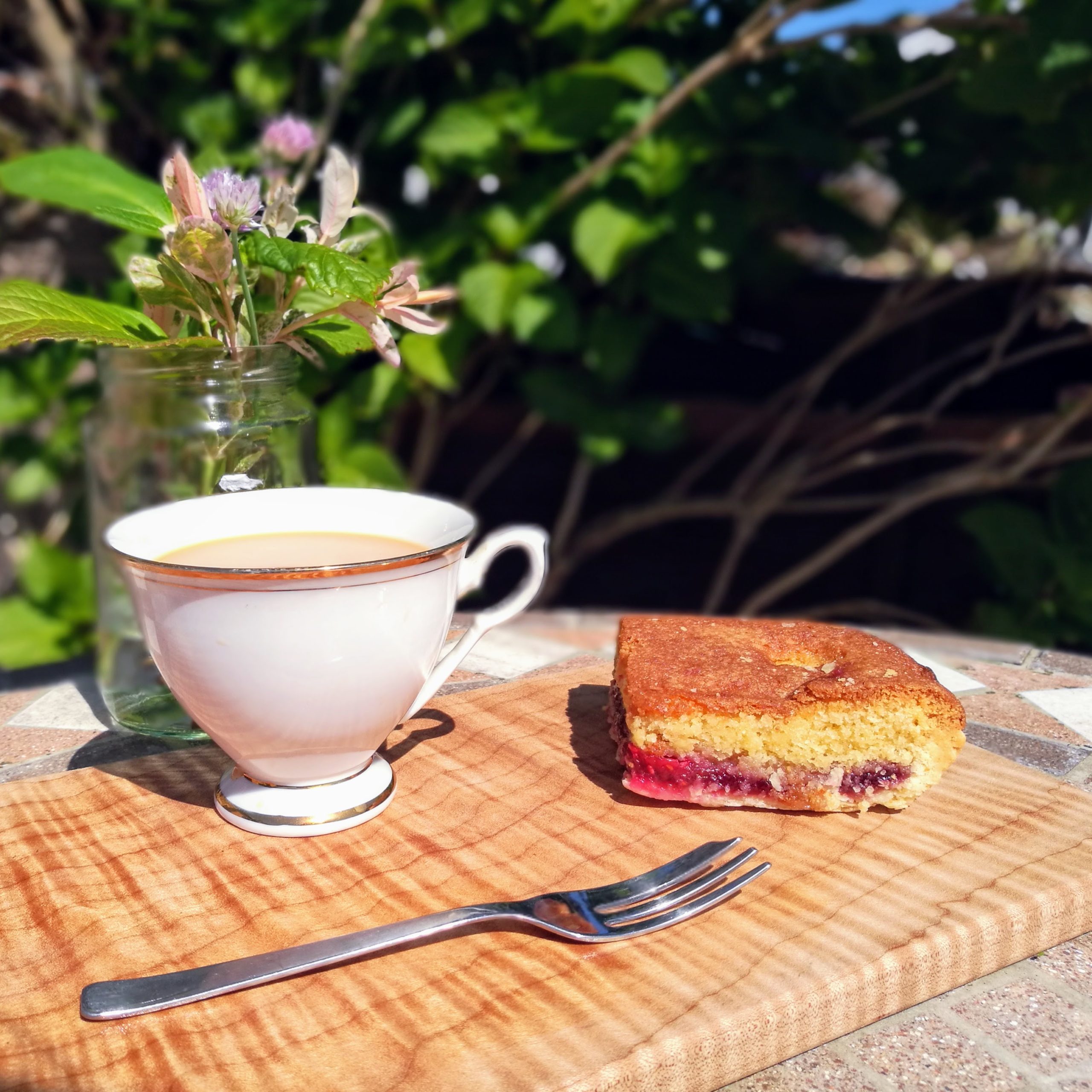 Ingredients for the Bakewell Tart
For the pastry
200g plain flour

1 tbsp icing sugar, plus extra to decorate

125g butter

1 egg yolk
For the filling
200g raspberry jam

180g butter, softened

180g caster sugar

3 eggs

180g ground almonds
Optional – fresh raspberries and flaked almonds for topping.
Method
Start with the pastry. Sieve the flour and icing sugar into a bowl. Rub in the butter. Add the egg yolk and 2 tsp water and mix to a firm dough. 
Roll the pastry out to about 3mm thick on a lightly floured board and then place it into a deep tart tin. 20-25cm in diameter works best. 
Refrigerate for 15 mins to allow the pastry to set.
This is a great time to make yourself a cup of tea and read about the wonderful walking holidays in the UK!
Remove your pastry case from the fridge and bake it 'blind' for 15 mins. That means putting in a layer of baking paper full of dry beans or baking beads to hold the pastry down. 
Remove the paper and baking beans and cook for a further 10 mins until the pastry is dry and a light golden colour. Remove from the oven and leave to cool.
Sip your tea and start on the filling as your pastry cools. 
For the filling, beat together the butter and sugar. Beat in the eggs, one at a time, then stir in the ground almonds. 
When the pastry is cool to the touch, spread a generous layer of jam into the bottom. 
Spoon the almond filling on top and smooth it down to create an even layer. If you choose to add almond flakes or fresh raspberries, sprinkle them over the Bakewell tart now.
Bake for 35–40 mins until the tart is firm and golden brown on top. The filling will firm up as it cools and is best sliced and served while just warm (allow to cool for 10-15 mins once out of the oven) or once completely cold. 
Tips for the Perfect British Bakewell Tart
You can keep your Bakewell tart for up to 2 days in an airtight container, if you can keep people from eating it for that long! 
You can replace the homemade pastry with ready-rolled shortcrust pastry if you are looking for a shortcut to save time. Line the tart tin and bake as above. 
You can also try this recipe with different jams or conserves in the filling, apricot jam works well, or try a thin layer of any seasonal stewed fruit for a change.