Bulgaria is a bit off the beaten track as a holiday destination, but it is absolutely worth the journey! The mountains are stunning, peaceful, and full of wonderful sites. You'll meet friendly locals and of course, there is plenty of excellent food to try. 
One of our favourites is these Stuffed Peppers, because it is simple, delicious, and they can easily be made vegetarian and gluten-free. 
You will find a wide range or recipes that involve various fillings and toppings. Some chushki biurek are coated in batter and fried (a bit like a large jalapeno popper), some are boiled, and some are baked. Some are served with a creamy sauce, and others are roasted in a rich tomato sauce.
This version is super simple and vegeterian, baked in a homemade tomato sauce. Feel free to get creative and try a few different versions until you find one that you and your family like!
Chushka Biurek (Stuffed Peppers)
Prep: 15 mins  Serves: 4  Cook: 60 mins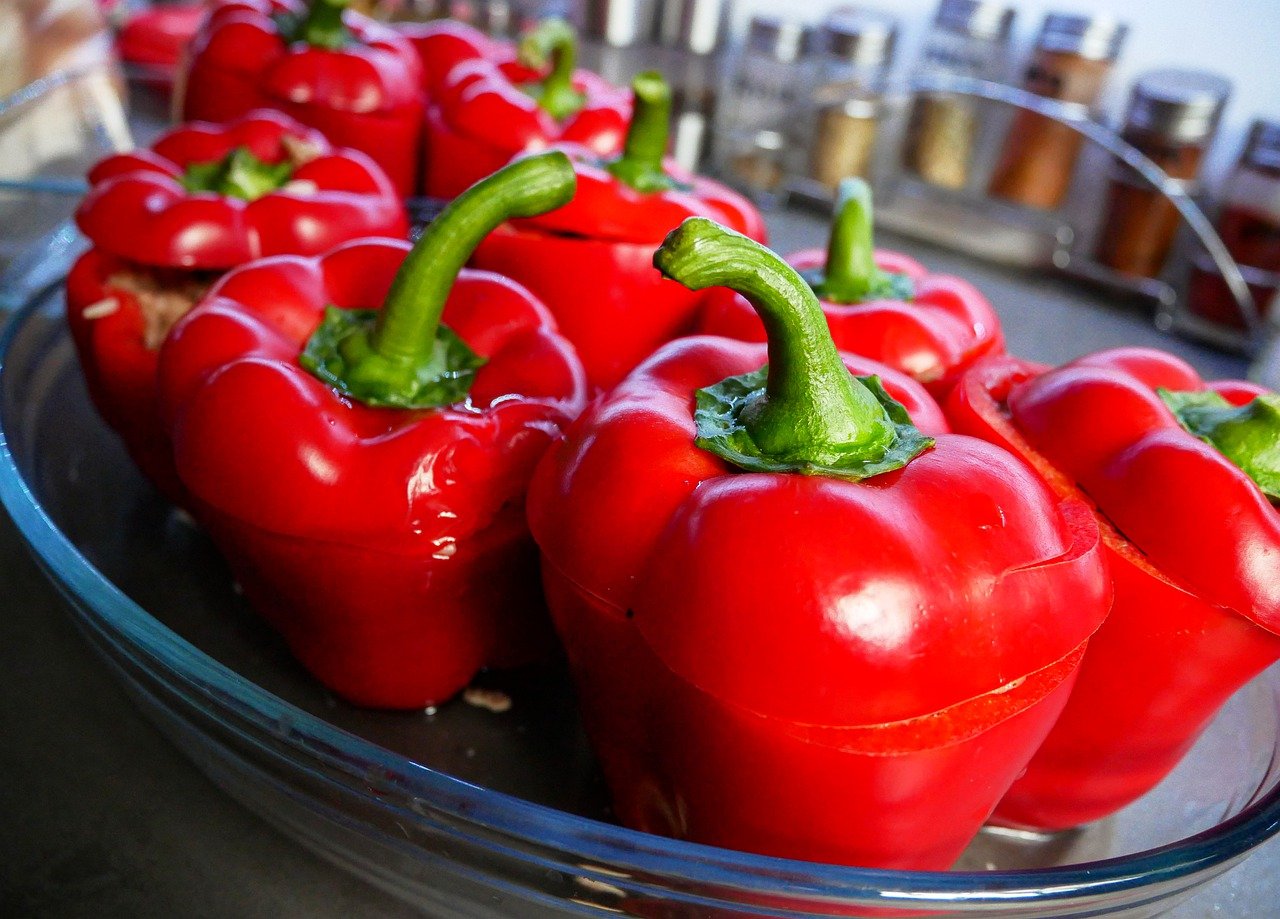 Ingredients:
– 4 red peppers (traditionally long sweet peppers are used, but bell peppers work just as well and are easier to stuff!)
– 4 eggs (free-range if possible)
– 1.5 cups of feta cheese
– pepper to taste
Sauce:
– 1 large onion
– 3 large garlic cloves
– 2 tablespoons olive oil
– 1 tablespoon sweet paprika powder
– 750 ml of vegetable stock
– 100 g tomato paste
– 5 tomatoes, diced
– 1 teaspoon sugar
– salt and pepper
Method:
Preheat the oven to 356°F (180 °C) 
For the sauce, chop the onion very finely. Heat the olive oil in a large, oven-proof pan and fry the onions on a medium heat until they are soft and slightly browned. Mince and add the garlic, then add the sweet paprika and fry for 1 minute. 
Add the chopped tomatoes and simmer for 10 minutes. Add the tomato paste, salt, pepper and sugar and stir well. Leave the sauce to simmer as you prepare the peppers.
Chop the top off the peppers and pull out the seeds and the white bits.
In a seperate bowl, beat the eggs and crumble in the feta cheese. Season with a bit of salt and pepper. You could add a bit of fresh parsley or dill to the mixture as well if you like, but this is less traditional. Mix well to combine. If it is very runny you can add more feta or a teaspoon of flour to thicken it up.
Pack the filling into your peppers. You can put the "lids" back on if you want, or top with a bit of grated cheese and leave them off to let the cheesey egg mixture get nice and golden.
Place the stuffed peppers into the sauce and put the dish into the oven, uncovered, for about 30 minutes.
The peppers are ready when they are soft and the filling has set. You can stick a toothpick in to see if the filling is still runny inside.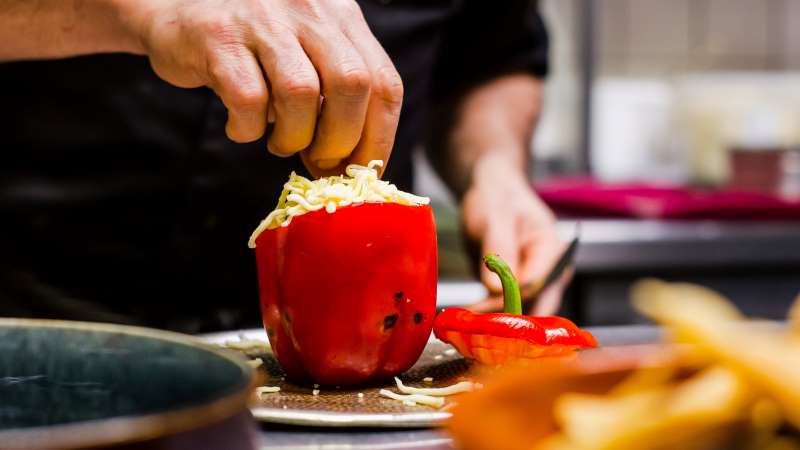 How to serve the Chushka Biurek
You will find plenty of bread and potatoes in Bulgaria and both go very well with this dish! Try mashed potaties to mix with the sauce, or simple boiled potatoes on the side. 
If you prefer bread, it is wonderful to mop up the sauce with a chunk of crusty bread!
Variations 
For a meaty variation on this dish, fry some mince and cook some rice and add this to the stuffing, then proceed as normal! 
If you are cooking for someone who isn't a fan of tomato, you can leave out the tomato sauce and bake the peppers by themselves in an oven dish. The skin will get nice and charred and they are still delicious. 
Another alternative to the tomato sauce is a yogurt sauce. Mix 1 cup of plain yogurt with a clove of minced garlic, a drizzel of olive oil, some chopped parsley and a pinch of salt. This is a nice simple sauce that might be easier for picky eaters to get used to!
This dish stores well in the fridge and is wonderful as leftovers as well. Just remember to heat the peppers all the way through.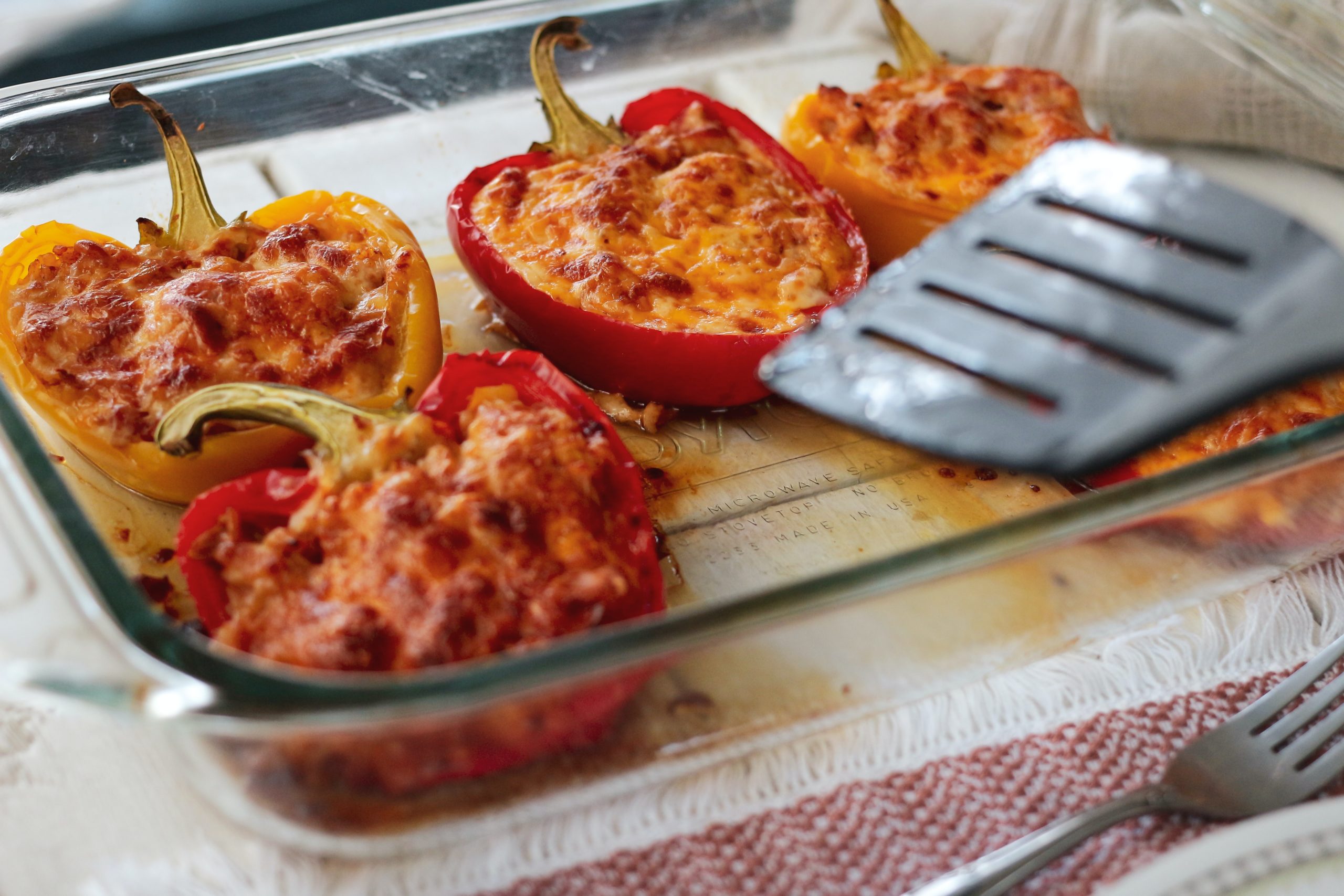 If this lovely Bulgarian dish has got you dreaming of your next holiday then check out our exciting active holiday in the Rila and Pirin mountains! It is a pretty challenging climb, so it is better suited to teenagers and older. The views, culture, and food are absolutely worth it!