Spain is not only well-known for its rich culture and beautiful landscapes but for its delicious and varied Mediterranean gastronomy, which includes the famous Spanish omelette or "tortilla de patatas".
The ingredients to prepare this signature dish are very simple, you only need potatoes, eggs, olive oil and a pinch of salt. Some people also prefer to add onions, even putting cheese, chorizo or other delicacies in it.
Whether you would like to remember your last holidays in Spain or would like to surprise your family by preparing some "tapas" or "pinchos" of Spanish omelette, here you will find an easy-to-prepare "tortilla de patatas" recipe. After this, you will gain the reputation of expert chef among your friends and family.
Spanish Omelette Recipe
Prep: 11 mins  Serves: 4  Cook: 60 mins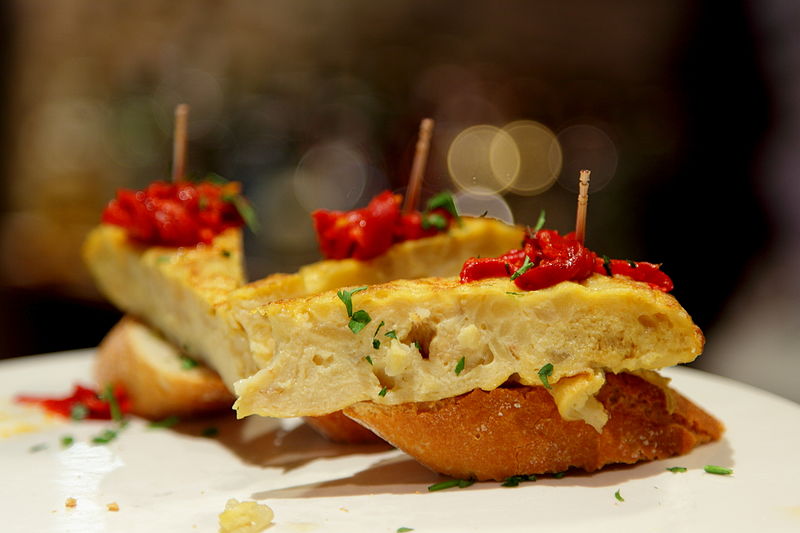 Ingredients:
-500g potatoes (choose special frying potatoes, which absorb little oil during frying and guarantee a good result).
-150ml extra-virgin olive oil (it adds more flavour)
-7 eggs (free-range if possible)
Extra:
-1 onion (if you like intense flavours choose red onion, otherwise choose white onion)
-Goat's cheese and sweet onions instead of the regular ones, chorizo…
Method
Cut the potatoes and onions into thin slices

Add extra virgin olive oil to a 11-inch non-stick pan over medium heat. (It's best to use a pan that is at least 1 1/2 inches deep.)

Add sliced potato and onion to the pan; they should be mostly covered with extra olive oil.

Add salt to your taste.

Slow cook for about 10 minutes until the potatoes are tender, turning occasionally. It is important that the potatoes don't get burned or overcooked!

Take the potatoes (and onions) out of the pan and drain them, reserving the oil for later. Taste and add salt if necessary. Let it cool down for a few minutes.

When the potatoes are cold, mash them gently with a fork. 

Meanwhile, crack the eggs in a bowl and beat them. Add 1/2 teaspoon of salt.

Add the potatoes to the bowl with the eggs and mix well.

Oil a 10-inch non-stick pan and heat it over high heat. Once hot, add the potato and egg mixture and cook for about a minute on high heat, then lower the temperature to medium-low and cook for about 5 minutes.
How to flip the tortilla de patatas
Once the tortilla has a firm texture around the edges and in the centre, place a flat plate on top of the pan, this plate should be larger than the pan. 
Then, with one hand, hold the pan handle and place the other hand on the plate, pressing it down so it doesn't move. Quickly and carefully turn the frying pan so that it is on top of the plate.
At this point, the side that is cooked should be on top.
Slide the tortilla gently into the pan. Be careful to ensure that the tortilla moves smoothly and maintains its round shape. Use the spatula to help you.
Let it cook over high heat for 3 minutes.
Top Tip:
If you're using a double non-stick omelette pan, it'll be easier. You just have to hold the double handle of the pan and turn it. Then put it back on the heat on the side of the omelette you just turned for 3 minutes.
Place the tortilla back on the plate and serve warm or at room temperature.
How to serve the Spanish Omelette
You could slice the tortilla into triangular pieces and serve it with a piece of baguette bread and salad. It is called "tapa" of Spanish omelette.
You could also do it as it is typically done in the north of Spain. Serve it as a "pintxo" or "pincho". Cut the tortilla into small square pieces to place on a tray and share. You could also put the small omelette squares on top of rounded pieces of baguette bread. Add a small stick to each piece to hold the tortilla.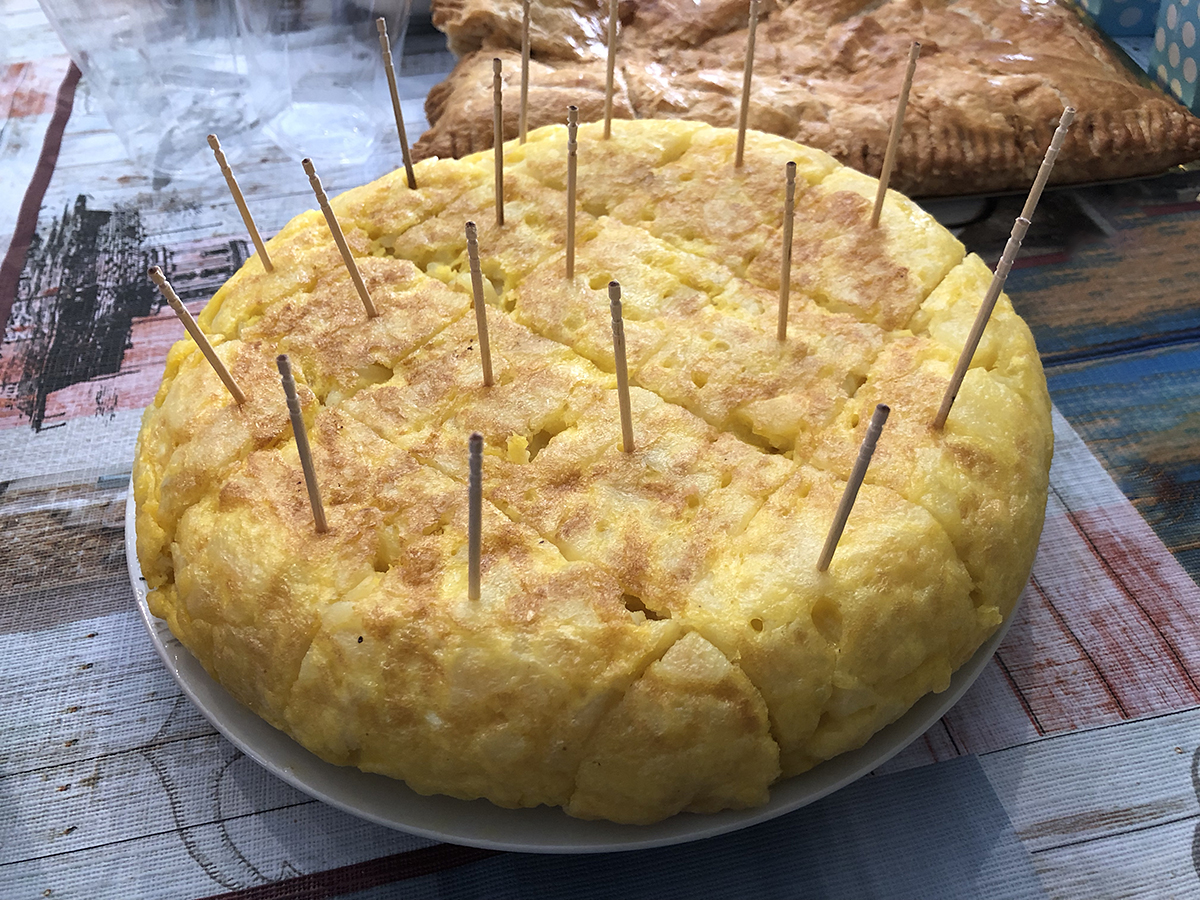 Another way of eating the tortilla is as a "bocadillo". Basically, it's an omelette sandwich and a quarter of a baguette bar.
Buen provecho!